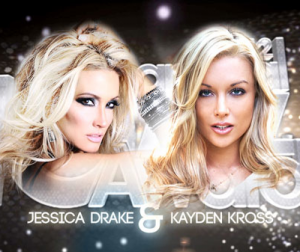 PIPELINE MULTIMEDIA CLIENTS GARNER XBIZ NOMINATIONS
( LOS ANGELES, CA ) – The 2012 XBIZ Awards nominations include recognition for four Pipeline Multimedia clients in five categories. Streamate, Severe Society Films, Nikki Benz and RogReviews.com were all honored by XBIZ and are in contention for Tenth Annual XBIZ Awards.
Streamate, the world's leading provider of live adult web cam entertainment, received a pair of nominations. They are recognized in the new "Live Cam Affiliate Program of the Year" category. Streamate is also nominated for "Live Cam Site of the Year," an award they won last year.
"Winning the XBIZ Award as the top live cam site last year was a great honor," says Streamate's Model/Talent Manager Liz. "We are proud to join the other nominees in that category and pleased to see our affiliate program also recognized."
Severe Society Films received their nomination as "Fetish Studio of the Year" capitalizing on their hit parody "Strap-On Idol" and their most successful year to date. This is the first year that XBIZ has presented this award and it represents a great honor for SSF to be named as one of the top producers of
fetish material.
"This has been a really special year for us," says SSF co-owner/director/editor Mistress D Severe. "The XBIZ Awards nomination is a huge honor. To be recognized as one of the top fetish studios is very gratifying, especially considering the level of the other four nominated companies."
Penthouse Pet of the Year and mainstream crossover super star Nikki Benz is nominated in the "Porn Star Site of the Year" for her site www.NikkiBenz.com. She will also be joining Lisa Ann as co-hosts for the 2012 XBIZ Awards red carpet.
"Thank you XBIZ for your nomination," says Nikki. "It means a lot! I look forward to co-hosting the red carpet at the XBIZ Awards with Lisa Ann."
RogReviews.com is nominated in the "Adult Site of the Year- Portal/Hub" category. It is the second XBIZ nomination for the adult review/news site.
"I was honored to have the site nominated last year," says owner Roger Pipe. "This year we re-designed the site, made it better and I am thrilled to be nominated again."
Pipeline Multimedia is exceptionally proud of all of the nominees. "Our business is essentially to tell as many people as possible about how amazing our clients are," says Pipeline Multimedia President Tiki Pavelle. "Fortunately, we have clients whose praise is easy to sing. They are a diverse lot but all share a great deal of talent, strong work ethic and a good deal of integrity. We are grateful to work with them."
Pipeline Multimedia proudly congratulates all of the 2012 XBIZ Award Nominees.
Streamate:
Live Cam Affiliate Program of the Year
Live Cam Site of the Year
Severe Society Films:
Fetish Studio of the Year
Nikki Benz:
Porn Star Site of the Year
RogReviews.com:
Adult Site of the Year – Portal/Hub
The Tenth Annual XBIZ Awards take place in Hollywood on January 10th 2012.
For a complete list of the awards nominees, visit http://www.XBIZawards.com.
About Pipeline Multimedia
Pipeline Multimedia is an intimate boutique public relations firm that caters
it's services to the needs of its clients. With over thirty years of combined
experience in the adult industry, the partners of Pipeline Multimedia provide
unprecedented experience, unparalleled service and unique PR packages. Pipeline
Multimedia's Tiki Pavelle brings experience from both sides of the camera in the
fetish world as well as an extensive journalism background. The Pipeline
Multimedia team boasts the talents of XRCO Hall of Fame writer Roger Pipe and
his fifteen years experience writing about the adult entertainment industry.
With services ranging from press releases and viral media management to
mainstream promotion and clip store management, Pipeline Multimedia is uniquely
positioned to meet the changing PR needs of clients in a changing and
challenging environment.
For More Inquiries Contact:
Tiki Pavelle
Pipeline Multimedia – President
(415) 299-0628
Email: Tiki@pipelinemultimedia.com
PipelineMultimedia.com
Roger Pipe
Pipeline Multimedia – Head Writer
(702) 610-0711
Email: Rog@pipelinemultimedia.com
PipelineMultimedia.com
Quick Links
Pipeline Multimedia's Official Website: http://pipelinemultimedia.com/
Pipeline Multimedia's Official Twitter Page: http://twitter.com/PipelineMltmdia
Pipeline Multimedia's Official Facebook Page: http://www.facebook.com/pages/Pipeline-Multimedia/159726704077488#!/pages/Pipeline-Multimedia/159726704077488?v=info
Pipeline Multimedia's Official MySpace Page: http://www.myspace.com/pipelinemedia
Pipeline Multimedia's Official YouTube Page: http://youtube.com/user/PipelineMultimedia