Streamate Girls Blow Into the Windy City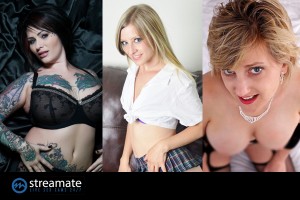 As the best in adult entertainment converge on the Windy City this week for Exxxotica Chicago 2013, Streamate will be well represented. The world's leading provider of live, web-cam entertainment will have no fewer than 10 of its leading cam models on hand for the industry-wide event. The models will be greeting fans and giving them a chance to meet their favorites in person,
Streamate models will be at the convention in a number of different booths. Several, including some of Streamate's top cam models, will be at the Pornstar Tweet booth. Paige Little, Catherine Tayler, Lucky Starr, Lisa Daniels, Dawn Marie and Sheridan Love will be at the booth posing for photos, signing autographs and getting to know their fans personally.
"I'm so excited to be attending the Chicago Exxxotica show this weekend," says Paige Little. "This will be my third year signing for Pornstar Tweet! They always have one best and diversified lineups in their booth. From pornstars to camgirls, they have something for everyone. Some of my most diehard, (and naughtiest), Streamate fans come from the Midwest, I can't wait to meet them! "
Camming is the fastest growing segment of the adult entertainment world and cam models know how important it is to work with social media. Pornstar Tweet is a natural fit as it allows fans to keep up with their favorite models.
"Social media has changed things for cam models in so many ways," says Catherine Tayler. "Fans have a chance to get to know their favorite models a bit more and it really helps us develop a fan base. Streamate does a great job helping us develop those relationships and sites like Pornstar Tweet really bridge the gap between fans and the performers they enjoy."
Streamate will also be well-represented at the Adult Biz Law booth at Exxxotica. Maggie Green and Jayla Diamond will be there to give fans a treat.
"With our freedoms always under attack, it is important to have people fighting for our rights," says Streamate's Chris. "The folks at Adult Biz Law do that every day and we are proud to have some of our Streamate models there to brighten up their booth."
Jayla Diamond is very excited about the upcoming convention. "I can't wait to get to Chicago," says Jayla. "It is always great to get meet fans and the Exxxotica show is a perfect way to do just that."
Streamate is also home to some of the top adult film star cam models. Two of them will be in attendance in Chicago. Rita Daniels will be in the Star Valley booth while international adult film superstar Tanya Tate will be appearing in the Club Spotlight booth.
"We are very proud of all of our models," adds Chris. "Fans at Exxxotica Chicago will see that we have the very best in the business."
Exxxotica Expo Chicago takes place July 12-14 at the Donald E. Stephens Convention Center.
For the best in live web cam entertainment visit: www.Streamate.com
For more of Streamate visit
www.Streamate.com
@Streamate
www.facebook.com/streamate
www.cherrypimps.com/
@CherryPimps
www.WildonCam.com
About Streamate.com
Streamate is the world's leading provider of live web cam models. Featuring thousands of beautiful models, Streamate offers live amateurs, porn stars and special channels for 24/7 entertainment, outstanding customer service and convenient, discreet billing.
For More Inquiries Contact
Roger Pipe
Pipeline Multimedia – President/Head Writer
@RogerTPipe
(702) 610-0711
Email: Rog@pipelinemultimedia.com
Pipelinemultimedia.com