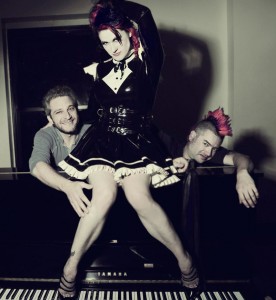 Soma Snakeoil's Home Street Home
( SAN FRANCISCO, CA ) — Soma Snakeoil has accomplished a great many things throughout her career in adult entertainment. She is an acclaimed writer, director, professional Dominant, fetish movie star, BDSM educator, magazine editor and live performer. Soma has been the driving force behind many innovative projects in the industry. However, nothing she has done to date has been as unique and groundbreaking as her latest effort.
Along with her partner Fat Mike of NOFX, Goddess Soma has written "Home Street Home" a full length musical. "Home Street Home" welcomed guests to their first fully staged production last weekend at Z Space in San Francisco's Mission District starting an 11 date run. It features music by punk legend Fat Mike (NOFX), lyrics by Fat Mike, Goddess Soma, and Jeff Marx (Tony Award® winner, Avenue Q), and script by Goddess Soma & Fat Mike.
"Home Street Home" follows 16 year old Sue as she runs away from home and ends up neck-deep in deviance and danger on the streets. Her adventure leads her into the midst of a tight knit, charismatic tribe of homeless teens who take her in. Through her tribulations and new found family, Sue finds her way and ultimately herself.
"This is a project that Mike and I have been working on for five years," says Soma. "It is a true labor of love. There a little bit of everything, great music, a powerful story, you name it. It touches on themes that are true to our lives and that are not often covered on screen or stage. There are very real BDSM scenes that I don't think have been shown on stage ever before. We also touch on the lives of sex_workers and their experiences as a major theme in the show."
In addition to the regular performances of "Home Street Home" the cast and producers are hosting two special evenings for their friends in the adult and alternative press. Invited guests will be treated to a unique "Home Street Home" goodie bag, tickets to the show and a post-performance meet and greet. Following the shows on Thursday March 5th and Friday March 6th, Goddess Soma will host a special Q & A session with members of the cast.
"We want to do something for our friends in the adult and alternative press," says Soma. "Those who have been so supportive as we created something authentic deserve our special thanks. We have some really cool things planned and can't wait to celebrate with them."
"Home Street Home" is Soma's writing debut as a playwright, but she is no stranger to telling interesting stories or interweaving erotica with mainstream entertainment. Two years ago, she and Mike teamed up on the AVN Winning Rubber Bordello.
"Rubber Bordello was a great collaboration and we are understandably proud of it," says Soma. "With Home Street Home we tried to tell a very real story in a way that would connect with our audience and also play well for the stage. We are very excited to invite people to share in this very human story."
Fat Mike shares Soma's enthusiasm, "Home Street Home is a theatrical version of my life, Soma's life and the outlandish but true stories of our friends' lives. To write something authentic, you write what you know. Drug use, living on the street, self abuse, shoplifting, stumbling, prostitution, bondage, flogging, running from cops, playing guitar, and passing out is what we know. Welcome to our Home Street Home."
Tickets for "Home Street Home" are available at the Z Space box office or online at http://zspace.org/
For more about Home Street Home visit www.HomeStreetHomeOnStage.com.
To interview Goddess Soma, Fat Mike, or Jeff Marx about "Home Street Home" or to be added to the special press guest list for March 5th and 6th contact rog@pipelinemultimedia.com