PUBA Sponsors MMA Fighter War Machine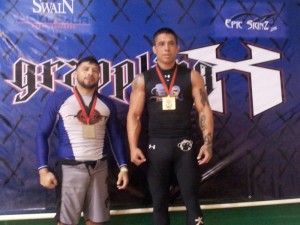 ( LOS ANGELES, CA ) — MMA fighter War Machine is a skilled warrior who brings plenty of weapons into the ring. When he heads into his bout Wednesday June 19th for the Bellator MMA Championship Tournament, he will be bringing a little extra support. War Machine has a new sponsor for this fight, one of adult entertainment's fastest rising brands, PUBA.
PUBA's sponsorship is their first for an MMA event. However, War Machine is not unfamiliar with or to the adult entertainment world. In addition to being one of the most feared fighters in the world of mixed martial arts, War Machine has also performed in adult films. Though he has given up carnal coupling for an even more intense brand of physicality, War Machine has not forgotten the fun he had working for Puba in his former profession.
"I am very happy and excited that PUBA has chosen to sponsor me for this fight," he says. "I think we fit well together.  When I was in the adult industry they were my favorite company to shoot for. They always had the hottest  chicks on their sites. I hope all of my fans will use PUBA for all their XXX needs, I promise you won't be disappointed!"
War Machine takes his 12-4 record into the ring against Blas Avena (8-6) for the Welterweight Feature Fight on the cardWednesday night, June 19th. Live from the Winstar World Casino  in Thackerville, Oklahoma, the card and War Machine's bout will be televised on Spike TV.  It will be his first fight since November of 2011.
Though a natural fit given his past XXX performances, the sponsorship by PUBA is new territory for an MMA event.
"It is a natural fit for us," says PUBA's co-owner Ben. "MMA is the fastest growing sport in the world. The fans who love the intense action offered by MMA are the same people who dig what we are doing with our adult entertainment. We are MMA fans so it just seemed to be a perfect match for us. We know that War Machine will put on a great show and make us proud."
Hailing from Simi Valley, California, War Machine has already picked up twelve MMA wins, seven by knock out with five submissions. In between bouts he has appeared in a dozen adult scenes including "Pretty Dirty (II)" for PUBA's Pornstar Empire line.
PUBA's in-house director Ivan has seem War Machine's work in the ring and on camera and is impressed. "War Machine always brought great energy to his scenes," says Ivan. " He fights with the same take-charge aggressiveness. We know he is going to have continued success."
Tune in Wednesday June 19th to see War Machine do battle in the Bellator MMA Championship Tournament on Spike TV.
For all things Puba, visit www.Puba.com
All media requests for interviews, appearances and all things Puba should be directed to Roger Pipe:Rog@pipelinemultimedia.com
Follow Puba on Twitter @Puba
For more of Puba visit www.Puba.com
Affiliates are invited to earn money with Puba by joiningwww.PubaCash.com
About Puba.com
Puba is the Official Top Pornstar Network for the top pornstar websites in one all access network! Puba has the official porn sites in a top pornstar network, including: Asa Akira, Avy Scott, Charley Chase, Lily Carter, London Keyes, Mason Moore, Natasha Nice and Samantha Saint. Puba offers you exclusive downloadable and streamable adult HD videos on the web!
For More Inquiries Contact:
Roger T. Pipe
Pipeline Multimedia – President/Head Writer
(702) 610-0711
Email: Rog@pipelinemultimedia.com
Pipelinemultimedia.com