OH CHERIE: XRCO AWARDS ADDS SECOND 'HEART-ON GIRL'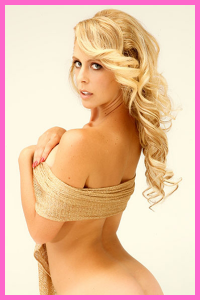 ( HOLLYWOOD, CA ) -The 2012 XRCO Awards just got a little sweeter with the addition of its second "Heart-On Girl" Cherie Deville. Cherie will join co-hostesses Kayden Kross and Dylan Ryder alongside fellow trophy girl Allie James on stage for the XXX spectacular on April 12th in Hollywood.
New to the adult entertainment industry, Cherie Deville is a stunning young girl/girl performer with OC Modeling. She spends her time away from adult working as a physical therapist and unwinds by playing video games, surfing, playing the drums and teaching swing dancing. The leggy blonde makes the trip from Nashville, Tennessee to_Porn Valley to work with some of the industry's hottest female talent. As a trophy girl for the XRCO Awards she will get to meet them up close.
"I am honored to be one of this year's 'Heart-On Girls' for XRCO," says Cherie. "I am new to the industry but have such great respect for my fellow performers. I am proud to help recognize their achievements."
The "Heart-On Girl" is an XRCO tradition that stretches back for more than two decades and some of the industry's biggest stars, including Nina Hartley and Chanel Preston have held he title.
"Cherie is just the sort of performer we look for when picking the 'Heart-On Girls'," says XRCO's Dirty Bob. "She is a fresh face and a rising star who will represent the XRCO Awards and the industry as a whole perfectly."
The 2012 XRCO Awards Show takes place on:
THURSDAY, APRIL 12TH AT 9PM
Red Carpet starts at 7:30pm at The Highlands Hollywood
Sponsorship opportunities for the 2012 XRCO Awards are available. Contact Dirty Bob at (937) 299-6700 for more information.
Visit www.XRCO.com for more information or follow them on Twitter @XRCOAwards
ABOUT XRCO:
Founded in 1984, the XRCO was formed to give writers and editors from the adult entertainment industry a voice in selecting the best in and brightest in the world of adult cinema. Original members included a small group of writers from Los Angeles, New York and Philadelphia. Over the years, select and qualified membership has expanded to include some of the best adult reviewers from both print and internet. In 2005, the XRCO welcomed its first European members. 2009 marked a quarter century of excellence with the XRCO's Silver Anniversary.
For All Media Inquiries Contact:
Tiki Pavelle
Pipeline Multimedia – President
(415) 299-0628
Email: Tiki@pipelinemultimedia.com
PipelineMultimedia.com
Roger Pipe
Pipeline Multimedia – Head Writer
(702) 610-0711
Email: Rog@pipelinemultimedia.com
PipelineMultimedia.com
2012 XRCO Sponsors:
Wicked Pictures.com
Smash Pictures
Internet Adult Film Database
Adam & Eve
XPlay
Evil Angel
Quick Links
XRCO Official Website: http://www.xrco.com/
XRCO Official Twitter: http://twitter.com/XRCOAwards
XRCO Official MySpace: http://www.myspace.com/xrco