MIA LELANI & DANI DANIELS JOIN PORNSTAR CAMHOUSE'S NEW EXPANDED LINEUP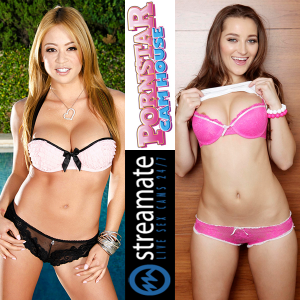 ( LOS ANGELES, CA ) – Already one of the industry's leading providers of live cam shows via Streamate, Pornstar Camhouse proudly announces the expansion of its brand with a new web site, hot new shows and DVD distribution. To help celebrate, they are making March a very special month of all anal scenes.
Beginning this week, Pornstar Camhouse is pleased to announce the addition of two new hosts for their shows. Exotic adult superstar Mia Lelani takes over the show on Mondays while smoldering vixen Dani Daniels takes the helm on Wednesdays.
"We are extremely pleased to add Mia Lelani and Dani Daniels to the Pornstar Camhouse team," says show Producer Sancho. "Mia is going to help kick start everyone's week and Dani is the perfect girl to help viewers get past those mid-week blues. As a way to welcome these two ladies to our shows, we are putting them in charge of live anal shows and will be doing all anal for the month of March."
Dani Daniels is looking forward to her new show. "I'm so excited to host for Pornstar Camhouse," she says. "They are a great group of people and I love that this is another way I can connect with my fans. I am really looking forward to it!"
Mia Lelani shares Dani's enthusiasm. "I love that Sancho and Pornstar Camhouse throw fuel to the fire of my eccentric personality," she says. "They give me every chance to have fun with the girls in anyway I see fit. You never know what will come out of my mouth, so sit back, beat your beat and enjoy the ride!"
Along with the new hosts, Pornstar Camhouse will be changing and extending show times. Live broadcasts will now begin at 7:30pm PST. This will give fans even more of the kind of hot, sexy fun that they have grown accustomed to. As always, viewers are in charge, directing the sex scenes during the fully interactive shows. Cast and crew take direction and turn viewers' fantasies into red-hot reality. Each night features five sizzling hot scenes starring the sexiest adult models in the industry. Sexy solo masturbation, hot girl-on-girl play and rock hard boy/girl action; Pornstar Camhouse has it all and you get to choose how it goes down.
Additionally, Pornstar Camhouse is pleased to announce the launch of it's website, www.pornstarcamhouse.com. Fans can check show schedules, find out about upcoming guests and keep track of their favorite models. Membership to www.pornstarcamhouse.com grants access to the full collection of shows. That's more than 700 scenes to choose from featuring the biggest stars and freshest faces in the business.
All of this excitement takes place as Pornstar Camhouse nears its 300th model milestone as well as a distribution deal to put some of the best live shows on DVD to reach a new audience.
"It's really crazy to think about our shooting our 300th model," adds Sancho. "We have been shooting for less than a year and a half and have already had that many beautiful women shoot with us. The DVD deal is another big step. We are going to throw a big release party for our first DVD. I can't say where or when yet, but it will be done in typical Pornstar Camhouse style so you won't want to miss it."
Don't miss a minute of the action as Mia Lelani and Dani Daniels joins Pornstar Camhouse for shows on Monday and Wednesday.
All shows offer a special free preview starting at 7:30pm PST. The live sex starts at 7:45pm so don't miss any of the blistering sex or the exciting pre-game festivities.
The pre show goes from 7:30 pm PST to 7:45pm. The actual sex show starts at 7:45pm PST.
http://pornstarcamhouse.com/
Don't miss these fantastic shows from Pornstar Camhouse presented by Streamate!
For more of Streamate visit
www.Streamate.com
www.twitter.com/streamate
www.facebook.com/streamate
About Streamate.com
Streamate is the world's leading provider of live web cam models. Featuring thousands of beautiful models, Streamate offers live amateurs, porn stars and special channels for 24/7 entertainment, outstanding customer service and convenient, discreet billing.
For More Inquiries Contact:
Tiki Pavelle
Pipeline Multimedia – President
(415) 299-0628
Email: Tiki@pipelinemultimedia.com
PipelineMultimedia.com
Roger Pipe
Pipeline Multimedia – Head Writer
(702) 610-0711
Email: Rog@pipelinemultimedia.com
PipelineMultimedia.com
Quick Links
Streamate.com's Official Website: http://www.Streamate.com.com/
Streamate.com's Official Twitter Page: http://www.twitter.com/Streamate
Streamate.com's Official Facebook Page: http://www.facebook.com/Streamate