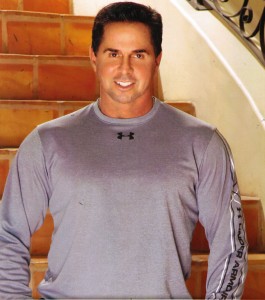 Coming To A Face Near You: Peter North's Decorator App Makes It Easy To Shoot Like North
( ORANGE COUNTY, CA ) – Peter North is a living legend in the adult entertainment world. He is a hall of fame performer, award winning director and his Northpole line of movies has been a top seller for over a decade. Fans know Peter for a number of things, but one thing stands out above all the others. One thing makes him the object of feminine desire and the subject of male envy. That one thing is incredible volume of his copious cumshots.
Peter's monster pop shots are truly the stuff of legend. They are unforgettable in every way and fans have long wished that they could blast a Northian warning shot across the bow of their beautiful partner or decorate the smiling face of the object of their deepest fantasies.
Thanks to Peter North's Decorator a brand new app for Android platform devices, they can do just that.
Developed by Post Dawn, Peter North's Decorator allows users to use their creativity to decorate their favorite photographs. It loads images selected by the user and then allows them fire shots paintball-style, that explode on impact. A well aimed volley may coat a smile, splash an eye or even mess up the hairdo of your favorite celebrity. Users may adjust the volume and color of their shots for optimal coverage. Peter North's voice also adds to the fun, encouraging shooters and spouting frisky one liners as he spurts.
The new app is discussed at length in a new interview Peter did with XBIZ's Dan Miller this week.
"Coming up with something like this that is so original and groundbreaking ranks high in my things that I've done during my career in adult," North told XBIZ's Dan Miller.
Read the complete interview on XBIZ.com at http://www.XBIZ.com/news/142078
With the launch of Peter North's Decorator and growing buzz, plans to make it a global phenomena are already underway.
"We are ready for this thing to blow up," says Post Dawn's Craven Moorehead. "We want people all over the world taking their favorite photo and doing what Peter has been doing to gorgeous women for decades."
Peter North's Decorator is available at is available at https://market.android.com/details?id=com.postdawn.decorator for $2.99.
A Facebook page has been set up where users are encouraged to upload their decorated photos:
https://www.facebook.com/pages/Peter-Norths-Decorator/216398298374271
Photos may also be shared via Twitter:
http://twitter.com/#!/PeterNorthsApp
Thanks to "Peter North's Decorator" anyone can paint like living legend Peter. Pick up yours today.
For more of Peter North visit
www.peternorth.com
www.twitter.com/peternorth
www.facebook.com/peternorth
For more of Craven Moorehead visit
www.cravenmooreheadxxx.com
www.twitter.com/badboycraven
About Peter North
A true living legend in the adult film industry, Peter has been a success at every phase of his career. His good looks, amazing physique and unique sexual skills made Peter one of the most sought male performers for decades. A member of every hall of fame the adult entertainment industry has, Peter's on screen performances are legendary. Turning his attentions to his production company NorthPole, Peter has continued industry dominance and is ready to focus on future projects in mobile technology and mainstream entertainment.
About Craven Moorehead
Craven Moorehead is an accomplished adult director, shooting such popular lines as "The Oral Adventures of Craven Moorehead", "Deep Throat This" and "The Northpole Series." Also an acclaimed horror film and music video director Moorehead has shot for multi-platinum artist Danzig and now turns his attention to upcoming projects for "Hollywood Undead."
For More Inquiries Contact:
Pipeline Multimedia.comTiki Pavelle
Pipeline Multimedia – President
(415) 299-0628
Email: Tiki@pipelinemultimedia.com
Pipelinemultimedia.com
Pipeline Multimedia.comRoger Pipe
Pipeline Multimedia – Head Writer
(702) 610-0711
Email: Rog@pipelinemultimedia.com
Pipelinemultimedia.com